Best Alternative Search Engines to Google
Google is a byword for web search and is used by the vast majority of people to find things on the net. While this is the case there are plenty of great alternative search engines to use that offer their own unique feature set and ability to find what you have been looking for. Of course, none of them will have as big of an index nor will they be able to find breaking news stories as quickly but many of these sites offer something better in their own right that you will not find anywhere else. So let's break down the best alternative search engines to Google.
DuckDuckGo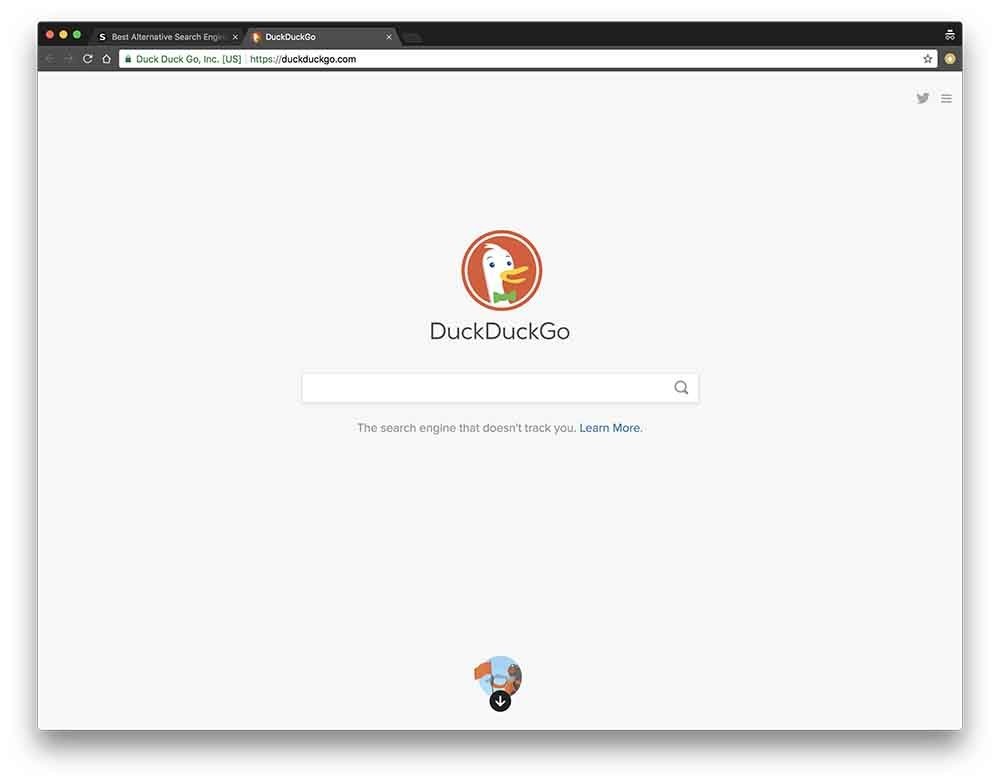 DuckDuckGo has been rising in popularity ever since its inception in 2008. The three main selling points as proclaimed on the site are:
We don't store your personal info.
We don't follow you around with ads.
We don't track you. Ever.
So the main selling point for DuckDuckGo is to have a private browsing experience. In use, though you will if the site to be very ergonomic and 9 times out of ten provide you with the result you were looking for. The interesting thing about this site is under the hood it actually combines the search result of both Google and Bing to bring an enhanced response to your query. One could look at it like a proxy service combining the power of multiple engines however you would not be able to tell by using it making DuckDuckGo a serious alternative search engine and one of the best out there.
Ecosia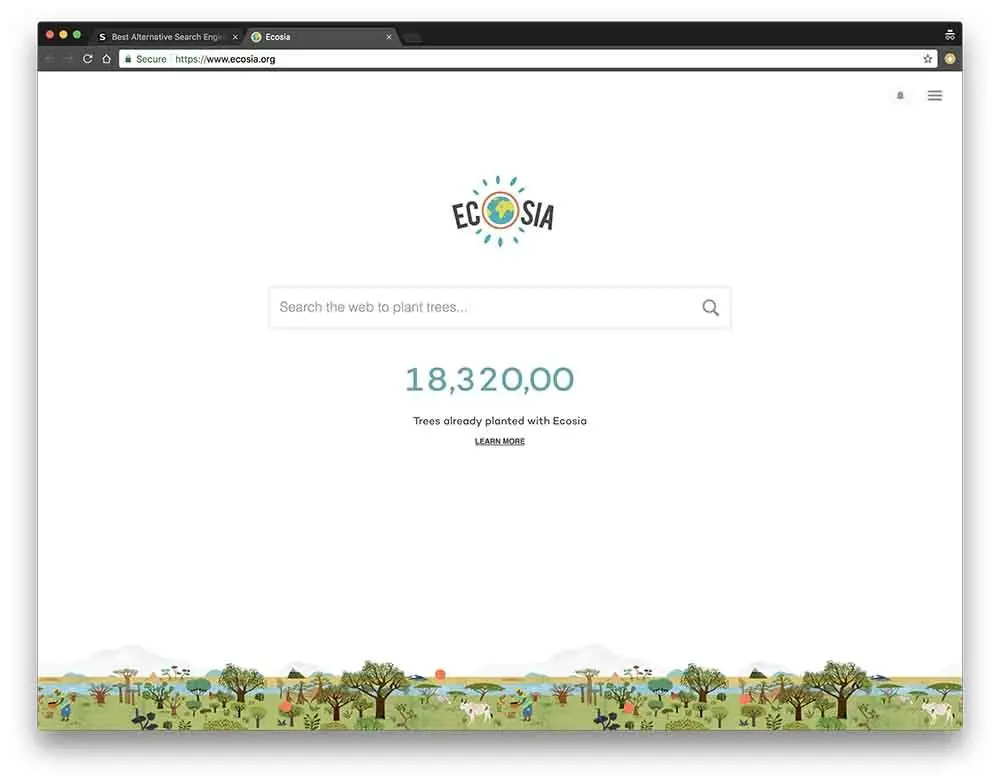 The German-based Ecosia was created by Christian Kroll in 2009 and is the only search engine that is dedicated to helping to save the planet. The site uses Google search results meaning that you will get all of its powers however the advertising revenue you generate while searching is put back into eco-friendly causes. A great search engine to use for people who are concerned about their impact on the planet with an easy to use interface which looks almost identical to that of Google's.
Yandex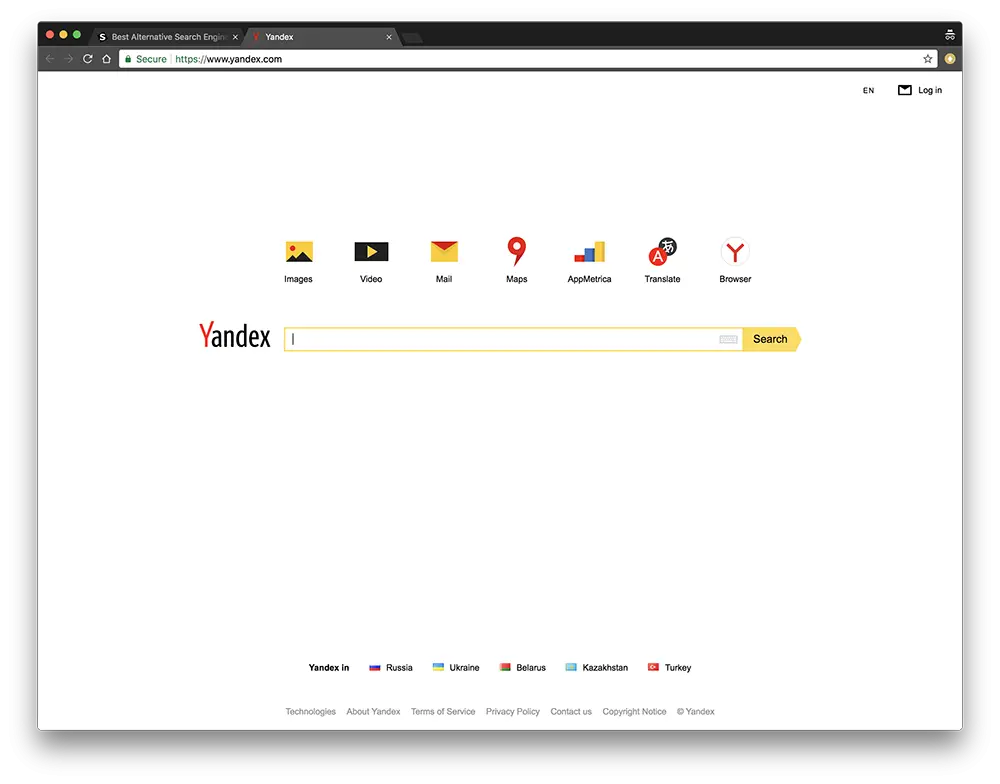 Yandex.ru is the king of web search in Russian language countries however in the last couple of years the team have been focusing their knowledge on English queries on yandex.com. With Yandex being so popular in Russia, over the year they have developed a feature-rich set of tools to aid searching the web which is now available in the English version. The first being regular web search which was very good at finding results I wanted after testing for a while, image search, video, mail, maps, translate and even their own browser. Another great feature of Yandex is when logged in it will attempt to return an even more accurate set of results tailored to you. You could make the transition to Yandex and not miss any of the powerful tools you have been used to which is a pretty big selling point. The UI is nice and clean too!
Dogpile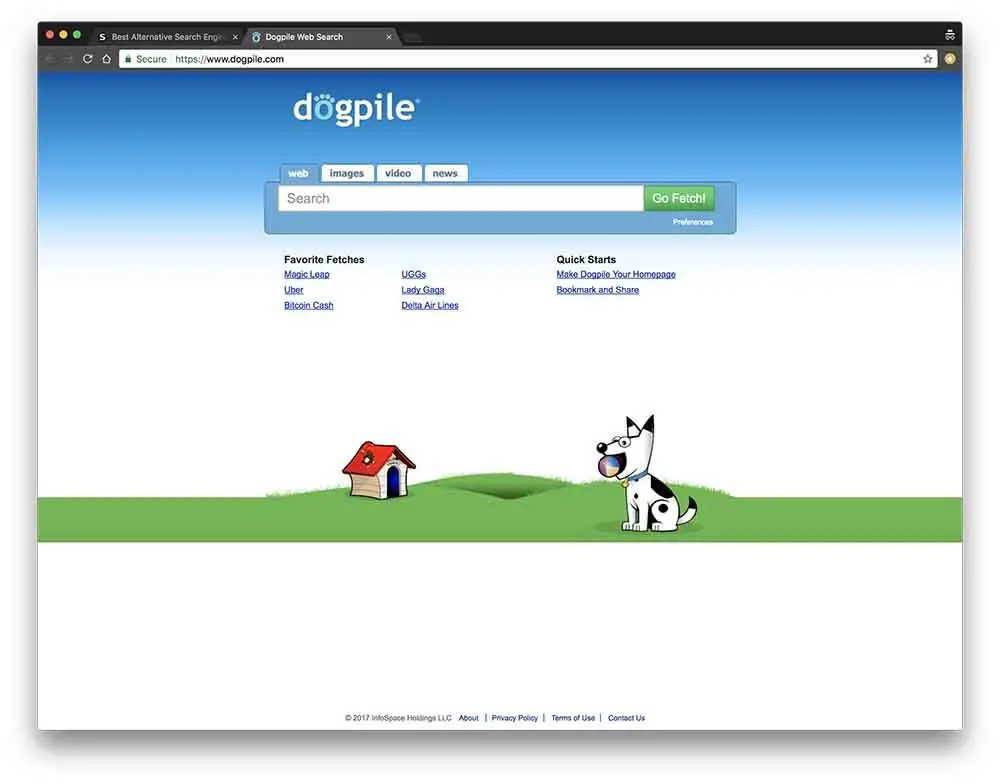 Dogpile has not been in the limelight for many years now but did you know that this search engine actually predates Google? Dogpile was created in 1995 and has provided a stable service ever since. Like other services on this page it combines results from a number of engines including Bing and Yandex as well as some specific video websites make it official a "Metasearch engine".
Personally if found the user interface of Dogpile to feel a little out-dated and while is offers, news, video, image, and shopping functionalities there weren't many other features such as filtering. One other thing to watch out for is it does not automatically redirect to https so make sure you visit the secure version to avoid ad's getting injected by third parties.
Ask
Ask.com is still one of the most popular search engines on the net. Judging by the user interface the service is actively updated however Ask offers very basic functionality making it an unlikely "complete" alternative to Google. As the name suggests Ask is best used for questions and gave me good results while testing and some people will like it simple "good at doing one job" approach. Another downside to Ask is they seem to push a lot of ads, usually putting 5 before you even get to the organic results.
Start Page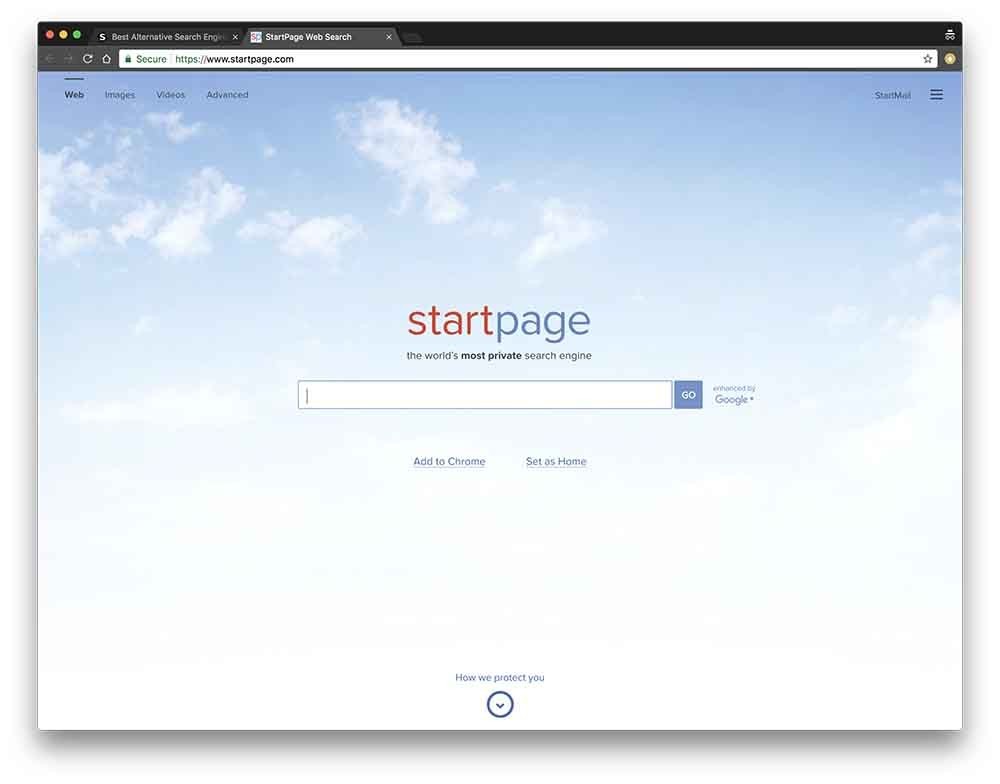 Start Page is another metadata search engine using enhanced results from Google. Like to DuckDuckGo one of its main goals is to provide a private search experience to ensure that your data is not sold and personalised adverts are not provided. Start Page offers a nice clean user interface, a lot of advanced search features and knowledge graph information making it a serious full-time alternative.
AOL Search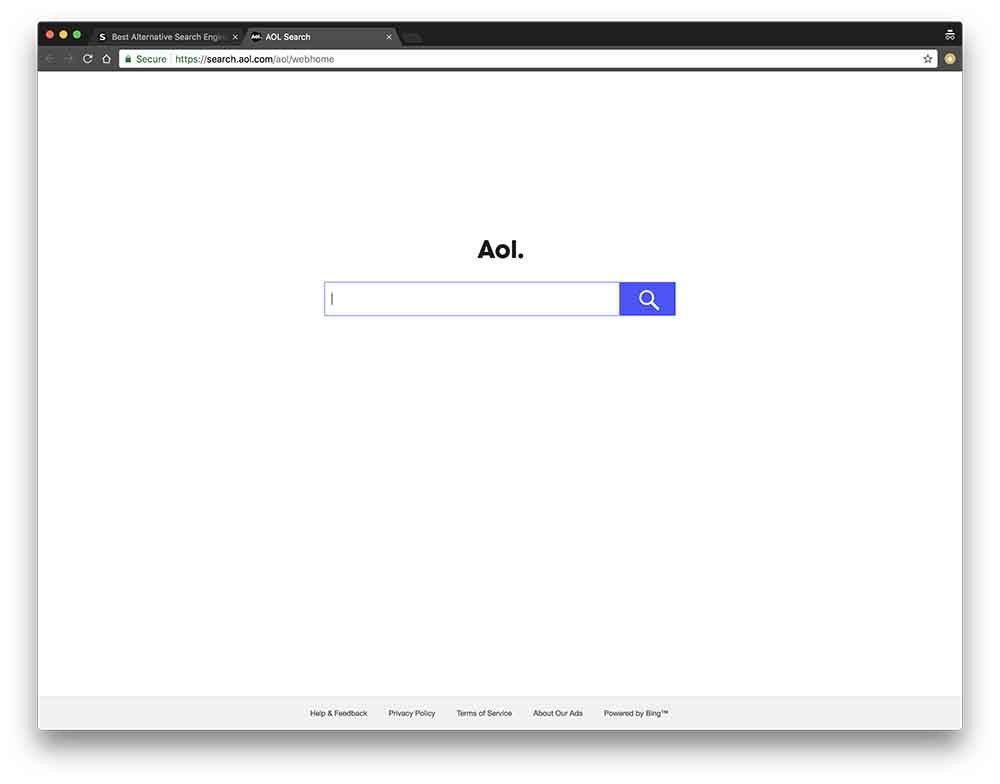 The main home page of aol.com is a portal just like the Yahoo homepage but if you go to search.aol.com you will get a page that is clean an simple, only offering a search function. Aol search offers a clean UI, few ads, safe search and knowledge graph data. I was actually surprised by how good AOL search was because in recent times all they seem to have been doing is shutting down services. I highly recommend that you give their service a try because it really is a real full-time alternative and one of the best search engines I have seen for 2020.
Baido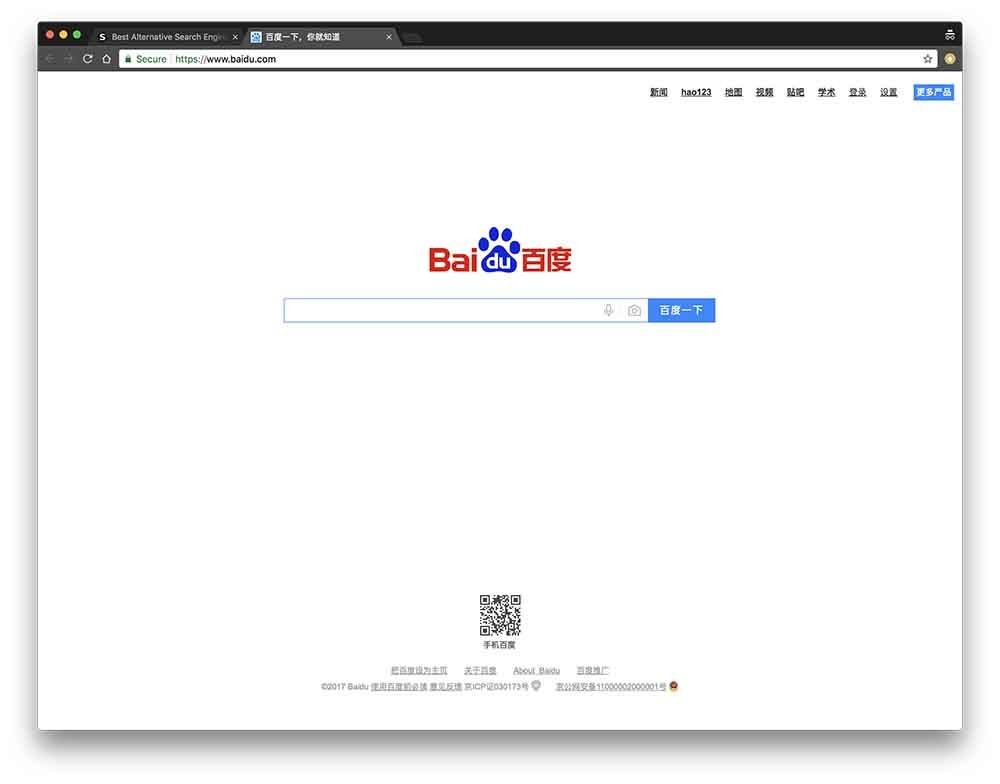 Baido is the most popular search engine in China and the fourth most popular website in the world according to alexa.com. The elephant in the room is of course that all results are provided in the Chinese language with no options available to switch to English. So you will either have to learn Chinese or use Chrome's built-in translate function to read results. Baido does return accurate results for English queries though.
Archive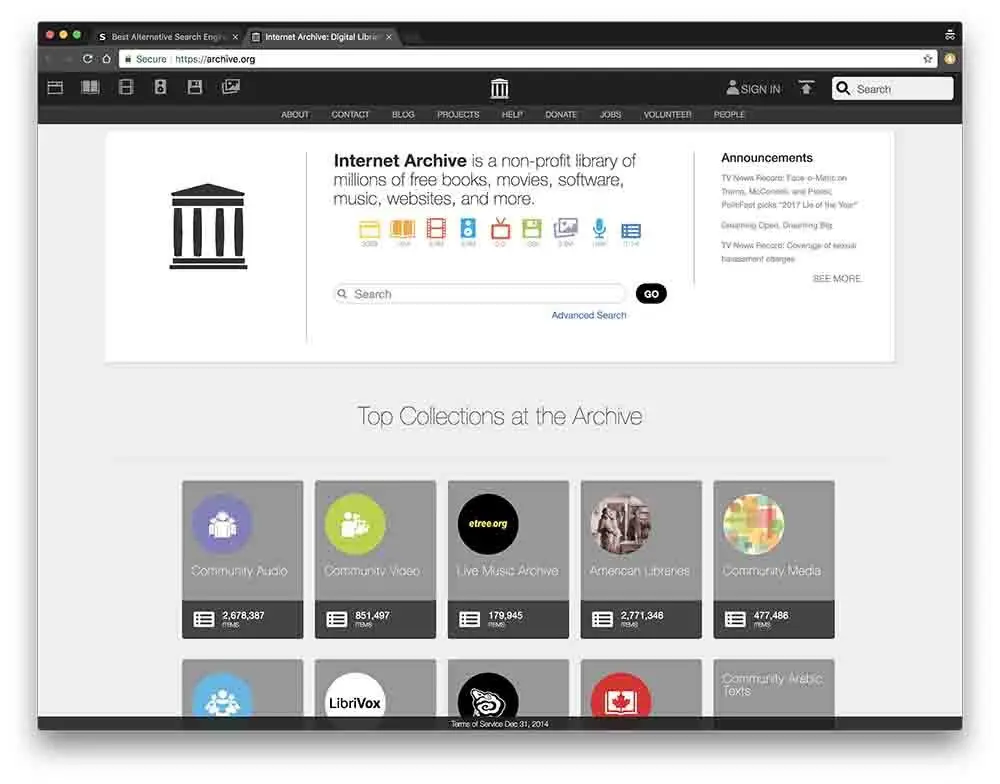 I put this one on the list because I use it all the time. Archive allows you to you find what is not available on the internet currently VIA the Wayback machine which has captured full copies of web pages since 1996. Not only is it helpful for finding 404 pages that were once on the live internet but it is really cool to see what pages looked like years ago.